Let's assume I get into Reading Railway Station at 10am. From the Station, I'm going to use the Thames Path to get to the start of the K&A Canal. It's about a mile. So I'll be there by about 1030am.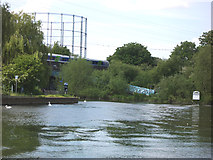 Entrance to the Kennet and Avon Canal
© Copyright Robin Williams and licensed for reuse under this Creative Commons Licence.
Today I'm walking 6.5 miles along the Canal from its junction with the Thames to Theale Swing Bridge. Together with the mile to get to the start and another 0.75 miles at the end to get to the nearest Railway Satation today's walking is about 8.25 miles.
Just 7 locks today which rise the water by 3'6", 1'2", 7'8", 5'3", 7'0", 7'7" and 2'2". I make that a total of 34 feet and 4 inches which is just over 10 metres. So it's really flat!
Much of the first two miles takes me through bits of Reading. There's meant to be some splendid development of the Canal at the Oracle Centre in the middle of Reading.

The Oracle in Reading
© Copyright Pam Brophy and licensed for reuse under this Creative Commons Licence.
And then its on to the outskirts of Reading.
From there it's about another two miles before I reach Burghfield Bridge. According to Wikipedia, Burghfield Bridge is involved in the local legend of the Cunning Man. Various stories exist regarding the legend, citing the Cunning Man as a wizard from nearby Tadley, who was able to heal both ailments and broken relationships. Another explanation is that a local building (now the Peter Pan Cafe) was built by a cunning man using bricks placed on their sides - so to use less building materials. The story lends its name to the local pub/restaurant, part of the Mitchells and Butlers "Vintage Inns" brand.
Wikipedia also says Burghfield Bridge is the location of Keynote Studios, a recording facility that has recently recorded the follow up to The Race's 2006 album "Be Your Alibi". In 2006, the Reading Chronicle named the hamlet as one of the most desirable (and thus most expensive) places to live in the Reading area.
As it's just over half way, I guess I will be going to the pub mentioned above (The Cunning Man) for lunch.

The Cunning Man PH, Burghfield Bridge
© Copyright Graham Horn and licensed for reuse under this Creative Commons Licence.
The Cunning Man's web pages say the pub keeps and serves a changing selection of real ales. ... a few of our favourite pints that make an appearance on a regular basis are Fuller's London Pride, Wadworth 6X and Hogs Back Brewery TEA (Traditional English Ale). Another web page explains that each week during September 2008 a small collection of Vintage Inns will serve one of four carefully selected Cask Conditioned Real Ales to highlight the fact that every Vintage Inn has a passion for offering a broad choice of quality Real Ale from the best brewers in the country. It's unclear as to which beer this particular Vintage Inn will be serving. The choice seems to be one of Caledonian Brewery's Golden Promise, Suffolk Brewer Adnams' East Green, Wells and Young's Special Premium Ale and Wells and Young's Vintage Ale.
Looks like I can have a mini beer festival if I have a half of each beer. I guess I'll have to limit myself to 2 pints, or else I'll fall into the Canal!
Their food menu looks interesting too. Maybe I'll go for the Honeyed Ham and Mature Cheddar Sandwich (at 4.50 UKP), a Crispy Caribbean Chicken Salad (at 7.95 UKP) or the Kerala Lamb Curry (at 8.25 UKP).
After lunch, the Canal goes under the M4 after about 1.5 miles. Then it's about a mile to Theale Swing Bridge. This is where I'm leaving the Canal today. It's then about 0.75 miles to Theale Railway Station. So a total of 2.75 miles, say 1.5 hours.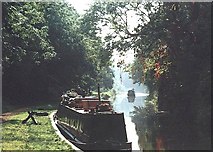 Kennet & Avon Canal near Theale
© Copyright Maurice Pullin and licensed for reuse under this Creative Commons Licence.