Today I'm first doing about 0.75 miles to re-trace from Theale Railway Station back to the Canal at Theale Swing Bridge and then about 8.5 miles along the towpath to Thatcham. Today's walking is therefore about 9.25 miles.
According to Nicholson's Waterways Guide 7, I'll be passing locks 100 to 91 and they give rises of 4'1", 6'4", 0'0", 9'8", 5'1", 6'11", 8'11", 8'11", 7'9" and 7'7".
The book also says that the Canal remains close to the railway and A4 ... constantly joining and rejoining the River Kennet.
Aldermaston Wharf is reached after 3.5 miles. It'll be a good place to stop and have a coffee.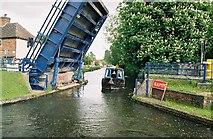 Aldermaston Lift Bridge
© Copyright Pierre Terre and licensed for reuse under this Creative Commons Licence.
From there it's another 2 miles to Woolhampton. Just before Woolhampton, the Canal is crossed by Wickham Knight Bridge. According to a web page, here there is a GPS cache. The page says you are looking for a small clip lock box which contains a logbook, pencil, and items for trading. Please make sure the cache is covered over when you rehide it, as it is quite close to the footpath. The page also says this cache replaces Woolhampton Walkover (GCVWDJ) which was muggled. Something to look out for!
But I won't get too distracted as it's time for lunch. The Nicholson's guide mentions the Row Barge Inn as being a canalside pub offering both restaurant and bar food. Renowned for its wide range of well-kept real ales.
The British School of Ballooning has one of its 14 bases behind the Rowbarge Inn. So maybe I'll get to see a hot air balloon. Here's one of their photos:

And here's a photo of the Rowbarge Inn. It's the one given on Woolhampton's Wikipedia page. The photographer (Chris Wood) owns the copyright but it is released under the terms of the Creative Commons Attribution ShareAlike License.

Here's a link to another photo of the Rowbarge Inn. That collection also includes a photo of the Canal before it was restored.
Keith and Jo are living on a 70ft working narrow boat called Hadar.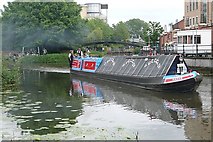 NB Hadar at Reading Waterfest
© Copyright Graham Horn and licensed for reuse under this Creative Commons Licence.
They've been documenting their trip, and, according to their useful review of Woolhampton, they passed Woolhampton on June 19th (2008). The review says that Woolhampton owes its existence to the mail coaches on the old Bath Road. It is a small but pretty village with some nice old properties; some actually have old signage painted still on the house walls. One advertising the fact it was a bakery dating back to 1875. Also some of the houses are named after their usage, such as the Old Forge, the Old Bakery and the Old Post Office. The village does have a small shop for provisions, a post office and three pubs. The Falmouth Arms, the Row Barge Inn which is near the Woolhampton Swing Bridge and The Angel Inn, which classes itself as a Bar and Brassiere, looking at its menu prices I can see why 12.95 UKP for Cod and Chips, I should say the chips are described as rustic ha ha ha. We gave that a miss this time. For basic pub grub I think the Falmouth Arms is the best bet. Still a nice village with character.
Curiously, on eBay at the moment, there is a postcard of the Falmouth Arms for sale.



Micky Flynn's blogshack also has some photos of the Falmouth Arms. Here's one:

Here's a link to a web page that has reviews of pubs on the Kennet and Avon but be warned that it dates from 1998! The page says that the Falmouth Arms serves Thomas Hardys only but the Row Barge on the canal itself has top quality (but not cheap) food and six interesting guest beers. Highly recommended.
I'll make a decision on the pub on the day, or maybe I'll make a decision by having a half in each of them!
After lunch, it's 3 miles to Thatcham where there is a Railway Station close to the Canal. However, on a Sunday, a bus replaces the train. Alternatively, I could pay extra and get the 102 bus back to Reading. On a Sunday the 102 has an hourly service from Thatcham Broadway to Reading's Railway Station.